1-Tier Pyramid - Deer - 29 cm / 11 inch
Model: 002-10-308

L×W×H: 14×21×29cm/5.5×8.3×11.4in

Currently out of stock

$ 119.00

US$ 119.00

This product is currently out of stock.

excl. Shipping costs

Made by Müller Kleinkunst

Model: 002-10-308
Product Information - 1-Tier Pyramid - Deer
The Christmas Pyramid has many details to discover. The colors are a pleasure for your eyes, especially because of the different shades of natural wood from the region of Seiffen together with exotic woods. The impeller is turned by candle heat. In the center there is carved tree.
This pyramid comes with a universal brass cup that allows the use of regular pyramid candles and tealight candles alike. Picture might show the product without the brass cup.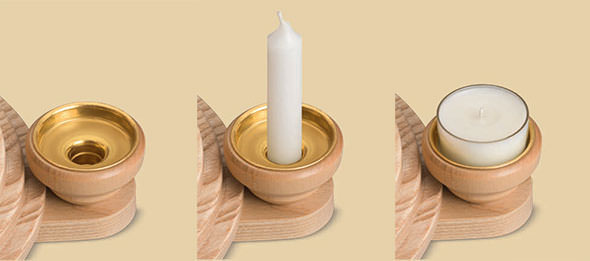 Matching candles for this pyramid can be found here. Candles with 1.4cm diameter are needed for this pyramid.
Product information
General
Basic material
Wood
Tiers
1
Place of manufacture
Seiffen/Erzgebirge
Measurements and weight
Height
29,0 cm/11.4 inch
Width
21,0 cm/8.3 inch
Depth
14,0 cm/5.5 inch
Weight
0.5 kg/0.9 lbs
Candles
Candle type
Tea light or pyramid candles Ø14 mm/0.55 inches
Buy now
Candle count
4
Kit for regular candles
Universal brass cup
Fast shipping: Get this item delivered by UPS Express within 3-5 days*!
No sales taxes - All custom duties covered by us - no hidden fees**
100% Authentic - Directly from the German Erzgebirge
5 Reviews
Rating
Comment

★★★★★

We love this with the unusual tree.




Susan C.

, December 2018

★★★★★

Sind sehr zufrieden, gern wieder.




Andreas Z.

, December 2018

★★★★★

I GAVE IT TO MY DAUGHTER FOR CHRISTMAS SHE JUST LOVED IT. NOW THAT IVE SEEN IT I WOULD LIKE TO ORDER ONE FOR MYSELF. IS THERE ANYMORE AVAILABLE. ONE QUESTION.. WHAT SIZE CANDLES DO YOU USE.




Rosemary S. from North Tonawanda

, December 2017

★★★★

☆

einwandfreie Qualität




Enna N. aus Bückeburg

, December 2017

★★★★★

Toll für die ganze Familie.




Eleonora U. aus Rothenfels

, December 2017
All sizes in inches are approximate. For exact size please refer to cm indication (1 inch = 2.54 cm).
Prices in USD are subject to change due to currency exchange rates and are updated bi-weekly.
* Applies to in-stock items only
** Applies to US shipping addresses only
Customers who bought "German Christmas Pyramid 1-Tier Pyramid - Deer by Müller Kleinkunst" also bought: