---
2-5 days delivery time with UPS Express!
Only the finest manufacturers!
Choose from more than 50 manufacturers!
+++ Fast delivery +++ Top prices +++ Outstanding customer support +++
Don't listen to us. Listen to our customers:

Products came well-wrapped and intact. They are so wonderfully fun.

Prompt and quality service thank you.

Speedy delivery and everything arrived in perfect condition.

What I like most is the quality of the work and finish on your items. I turned to Erzgebirge-Palace for that very reason. I love the Nutcracker figures, and when I looked at them here in the UK, they turned out to be made in China, very cheap and nasty in there finish with an exorbitant price tag. Although your products are more expensive, I much prefer to have them rather than something cheap and

Alles Gute Danke Herr Dr. K. USA.

Wunderbar, genau das bekommen, was ich bestellt habe, es ist ein Geschenk für meine Tochter und ich bin sehr zufrieden. Der Versand nach New York war sehr schnell

i had you ship to granddaughter in houston, tx and they love it thank you.. i order a green king for myself and that should be on its way...i look forward to doing business with you again...happy holidays..

Amazing product, super fast shipping, all around good experience!

I bought one pyramid for me and ended up buying four more for friends and family! They work beautifully and are so well done!! I think I receive them within a week or so to the United States.

This 3-tier pyramid was an early Christmas present for my wife. I had seen some pyramids through gift shop windows during a recent trip to Germany and knew she would love to have one. When I returned, I found your website and placed an order. It was on my doorstep in Central USA in 3 days. She loved it. And so do I.

My order was packed very well and shipped quickly.

Arrived quickly and very well packed. A gorgeous nutcracker!
Wonderful Nutcrackers · Glamorous Smokers · Enchanting Christmas Pyramids
Marvelous Candle Arches · Charming Angels · Delightful Music Boxes
and many other lovely Figurines & Ornaments
---
Some highlights from our range of products
Hubrig Volkskunst
Winter Children
Ulbricht
Gnomes
KWO
Edge Stool Smoker
Herrnhuter
Moravian Stars
Incense Cones
Knox/Huss/Crottendorfer
Erzgebirge
Nativity Scenes
Müllerchen
Smokers
Christian Ulbricht
Premium Nutcrackers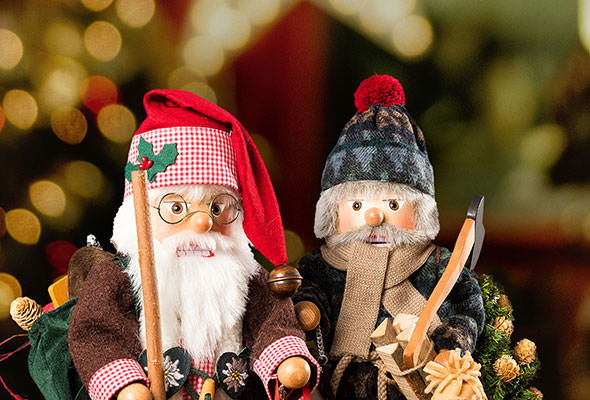 Günter Reichel
Guardian Angels
Weha Kunst
Flower Children
Weigla
Motive Lights
Handicraft Sets
Fun to build
Björn Köhler
Santa Claus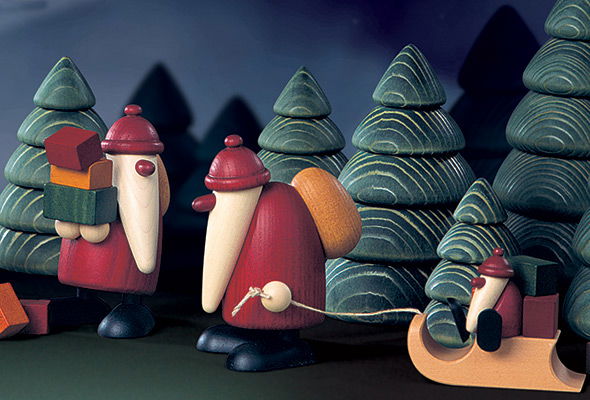 ---
About the Erzgebirge-Palace
The Erzgebirge-Palace offers one of the largest and most beautiful varieties of wooden gifts from the German Erzgebirge. Our 7500+ items include 600 wooden Christmas Pyramids, 1500 German Smokers and Incense Smokers, 600 Nutcrackers, 550 Schwibbogen and wooden Candle Arches, 100 wooden Music Boxes and over 1400 angel figurines, wooden Angel Editions, German ornaments, Flower children, Miniatures, Manger Figures, cribs & nativity scenes, window pictures, tree ornaments, Angel Orchestra and Angel Musicians.
Our handcrafted Volkskunst products are all original woodart from the Erzgebirge, those shown with the "Echt Erzgebirge"-Logo are in addition Original Erzgebirge items by members of the German Erzgebirge Handraft Association "Verband Erzgebirgische Kunsthandwerker and Spielzeughersteller". All of the workshops belong to the most reknown manufacturers of the German Erzgebirge wooden folkart and come from the famous villages Seiffen, Olbernhau and Marienberg. The Steinbach Nutcrackers, Ulbricht Nutcrackers, KWO Incense Smokers, large Glaesser Christmas Pyramids, beautiful musix boxes and the Schwibbogen by Mueller Kleinkunst belong to figureheads of German Erzgebirge craftsmanship.
The Erzgebirge-Palace offers the complete world of the German Erzgebirge folkart to collectors and enthusiasts of traditional wooden gifts and woodcarving decorations made in Germany. As a very special gift we recommend Steinbach Nutcrackers Limited Editions, KWO Mozart Orchestra, Schwibbogen Dresdner Frauenkirche and Christmas Pyramids with musical tunes. German collectibles, german decorations and german gifts, you will find it all at the Erzgebirge Palace.