The German Erzgebirge
The Ore Mountains (Erzgebirge) are a low mountain range in the east of Germany. It lies in the south of the German State Saxonia and is certainly one of most beautiful and most traditional regions.
Altogether the mountains extend on a length of 150 km (90 miles) and width of 40 km (25 miles).
Due to the rough climate the settlement of the Ore Mountains began rather late compared to many other regions in Germany (12th Century). Short time later the first resources were discovered (silver, tin) and made settling in the ore mountains profitable. In the 15th Century many new enormous deposits of resources were found, which led to a large settlement wave ("Bergkgeschrey ").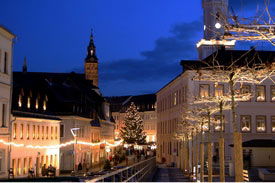 The mining industry helped the region become very wealthy. Hundreds of magnificent castles and impressing churches are nowadays an interesting sight for tourist from around the world. Also the culture of the Ore Mountains was shaped considerably by the mining industry.
Nowadays the Ore Mountains apart from the folkart are also an attractive holiday region with over 100 cities and villages. Whether summer or winter the Ore Mountains always offer something to experience and to discover.
The Region of the Middle Ore Mountains is the heart of folkart and handcraft. The beautiful Christmas pyramids, Nutcrackers, Smokers, Candle Arches and wooden Angels have made Villages like Seiffen, Olbernhau and Marienberg internationally famous.
Seiffen:
founded:

1324 AD

inhabitants:

3,000

web:
Guests on Advent weekends: 200,000
Olbernhau:
founded:

1346 AD

inhabitants:

10,750

web:
The roof of St. Peter (Rome) was built with sheet copper made in Olbernhau.
Marienberg:
founded:

1521 AD

inhabitants:

14,000

web:
Links: